Welcome to the
3rd Amsterdam Aviation Collectors Fair
- 23rd of February 2020 - Van der Valk Hotel A4 Schiphol - Amsterdam Schiphol
Tombola prizes not yet collected:
There are still some Tombola prizes which have not been picked up.
The numbers it concerns:
Serie Y nr 96
Serie Y nr 3
Serie Y nr 30
Serie V nr 4
Serie V nr 26
Serie Z nr 94
If you have one of these numbers send us a picture of your ticket and we will inform you if the color of the ticket corresponds with the one belonging to one of the prizes.
Your prize can be claimed untill the 31st of March 2019. 
This website is created to provide all Aviation collectors with information regarding the Amsterdam Aviation Collectors Fair which takes place near Schiphol Airport.
We work non-profit and our goal is to organize a yearly Aviation Collectors Fair for all Aviation enthusiasts in the world which will be known and listed as the first big show of the year in Europe!

The first edition of this event was on the 25th of February 2018. A huge success with over 110 exhibitors, 210 tables and more than 1000 visitors!
In addition to the AACF, we will also inform you on the worldwide showagenda and give you reviews on the shows we've visited!
Sunday 24 February 2019
07:00 - 10:00
Registration
Registration and setting up table(s) by exhibitors
10:00
Start Aviationfair
Hall opens for visitors
15:30-16.00
Tombola
Your chance to win a prize at the Tombola
Location Information
A great location very close to Amsterdam Airport Schiphol!
Location
The fair takes place at the Van der Valk Hotel A4 very close to Amsterdam Schiphol Airport. See the map for exact information.


Transport
The hotel is just 1 km South of Amsterdam Airport and easy to reach by car with free parking. The hotel shuttle bus departs every 40 min to the Airport Terminal.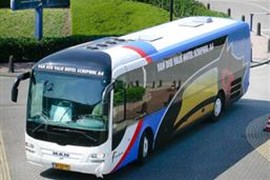 Hotelrooms
Limited hotelrooms available for a special price. Click on the button below to get a booking form for a hotelroom from €89 including breakfast!