12th of January 2018
– Opening hours expanded: end time for the AACF has moved up from 16.00 to 17.00 hours!!
– Stallholders registration and build up from 07.00 am instead of  08.00 am.
10th of January 2018
– Will the world's most travelled man, Mr. Fred Finn be present at the Amsterdam Aviation Collectors Fair? Mr. Finn traveled with the Concorde more than 700 times!
10th of January 2018
– Amsterdam Aviation Collectors Fair is full. All 205 tables have been booked! We have started a waitinglist, it is still 1,5 month to go and you never know…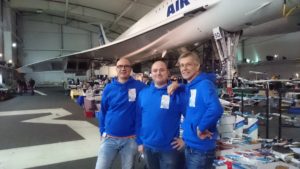 8th of January 2018
– Interview with the AACF team in the coming issue of Model Airliner Magazine (www.modelairliner.com). Release date: 27th of January 2018