10th of April 2018:
Unfortunately this year there will be no Aéropuces Le Bourget at the Musée de l'Air et de l'Éspace. We regret the decision of the museum as this ends one of the best aviation collectors shows in the world.
19th of March 2018:
The organization of the Amsterdam Aviation Collectors Fair is very happy to announce that there will be a 2nd edition which will take place on:
 

FEBRUARY

 24th 2019!!
LOCATION (same as this years edition):
Registration for exhibitors will start after the 1st of June 2019.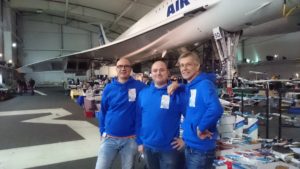 8th of January 2018
– Interview with the AACF team in the coming issue of Model Airliner Magazine (www.modelairliner.com). Release date: 27th of January 2018
14th of March 2018
After a fantastic 1st Amsterdam Aviation Collectors Fair with more than 200 tables, more than 100 exhibitors and more than 1000 visitors, we are already planning the Amsterdam Aviation Collectors Fair 2019!
We can inform you that very soon a date and location will be published!!