CANCELLED!!
4th Amsterdam Aviation Collectors Fair
- 27th and 28th of February 2021 - Sporthal de Bloemhof - Aalsmeer
As a result of the ongoing COVID-19 crisis throughout the world and the problems in the Aviation world caused by this crisis we decided to cancel the 4th Amsterdam Aviation Collectors Fair 2021 at Sporthal De Bloemhof.
We hope all visitors and exhibitors will support the organizers who had to cancel their shows for the coming weeks (and past weeks) by visiting the next shows they organize and accept a possible raise in entrance or table fee. Organizing a show for you guys is never without financial risk.
Remember: the shows are not organized by professionals, these people are just dedicated to the hobby and do it for you!
We will keep you updated on the situation with the planned shows in our Showagenda and Facebook-page. 
You can also visit www.aviation-weekend.com where Dean Raineri will also update you.
We hope to see you soon at an Aviation Collectibles show near you!!
TOMBOLA DRAWING:
ONLY 1 PRIZE NOT COLLECTED!
2 HERPA 1/200 MODELS + 1 YEAR MEMBERSHIP
FOR HERPA WINGS CLUB
WINNING TICKET IS:

ORANGE

, SERIE F, NR 7

IF YOU HAVE THE WINNING TICKET, SEND A PICTURE OF THE TICKET 
TOGETHER WITH YOUR DETAILS (NAME ADDRESS ETC) TO AMSTERDAMACF@OUTLOOK.COM
AND WE WILL CONTACT YOU TO MAKE SURE THE PRIZE IS DELIVERED TO YOUR HOME!!
You can watch some videos of the Amsterdam Aviation Collectors Fair 2019

here!
This website is created to provide all Aviation collectors with information regarding the Amsterdam Aviation Collectors Fair which takes place near Schiphol Airport.
We work non-profit and our goal is to organize a yearly Aviation Collectors Fair for all Aviation enthusiasts in the world which will be known and listed as the first big show of the year in Europe!

The first edition of this event was on the 25th of February 2018. A huge success with over 110 exhibitors, 210 tables and more than 1000 visitors! The 2nd edition on the 24th of February 2019 was an even bigger success with 130 exhibitors, 276 tables and more than 1200 visitors! The 3rd edition will be on the 23rd of February 2020, join us!
In addition to the AACF, we will also inform you on the worldwide showagenda and give you reviews on the shows we've visited!
Location Information
A great location very close to Amsterdam Airport Schiphol!
Location
The fair takes place at the Van der Valk Hotel A4 very close to Amsterdam Schiphol Airport. See the map for exact information.




Transport
The hotel is just 1 km South of Amsterdam Airport and easy to reach by car with free parking. The hotel shuttle bus departs every 40 min to the Airport Terminal.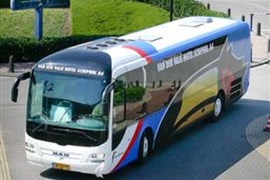 Hotelrooms
Limited hotelrooms available for a special price. Click on the button below to get a booking form for a hotelroom from €89 including breakfast!